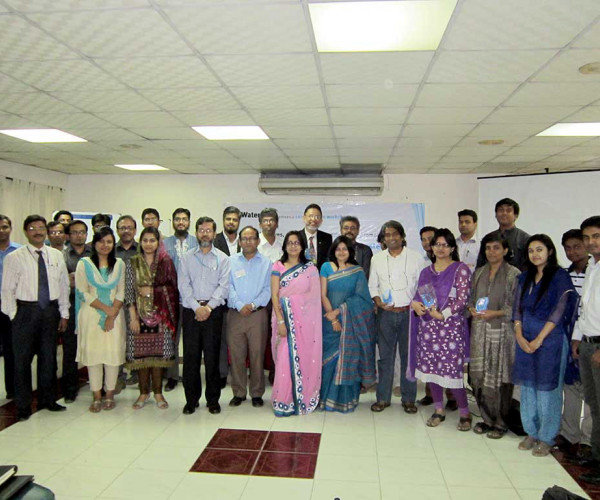 Workshop on consolidating initiatives, practices and experiences of promoting Urban Rainwater Harvesting System (URHS)
Published at Sunday 08 November 2020
Type: labels.backend.events.types.workshop
Access type: Commercial
Venue: Dhaka
Organizer: WaterAid Bangladesh
Contacts:
No of participants: 36
Start date: 2013-02-27 12:00:00
End date: 2013-02-27 12:00:00
Description
WaterAid organised a consolidation workshop on initiatives, practices and experiences of promoting Urban Rainwater Harvesting System (URHS) on 27 February 2013 in Dhaka. This workshop was open for training fellows received training from WaterAid and Rain Forum events organised during August 2010 to February 2013. The prime objectives of the workshop were to:


re-energize rainwater harvesting promoters.
obtain a stock list of initiatives on promotion of urban rainwater harvesting in Bangladesh
encourage good initiatives and practices.
draw a way forward for promoting urban rainwater harvesting.

A total of 36 participants including WaterAid attended in this workshop. Initiatives and experiences on promoting urban rainwater harvesting shared by representatives of BUET, North South University (NSU) Bangladesh, Independent University Bangladesh (IUB), BRAC University, Dustho Swastho Kendra (DSK), Nabolok-Paikgacha Pourashava, Public Works Department (PWD) and Rain Forum. Representatives from University of Information Science and Technology (UITS), Dhaka and Shahjalal University of Science and Technology (SUST), Sylhet shared their reflections regarding strategic partnership with WaterAid for promoting rainwater harvesting. Rain Forum shared their updates and next course of actions. WaterAid encouraged urban rainwater harvesting champions for their good initiatives and practices belong to different professional arena. WaterAid extended thanks to all participants and expressed a positive feeling to extend its technical support for promoting rainwater harvesting in Bangladesh.